Hydro Ban Shower Pans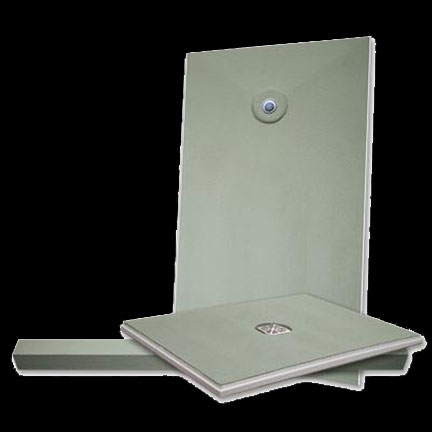 Manufactured shower pans are steadily taking over what used to be exclusively a sand and cement market. Floating a sand and cement shower pan is not an easy task. It's been compared to a sculptor working with clay. In this case, a manufactured shower system is more like building with blocks. Laticrete's Hydro Ban Shower Pan makes installation faster and easier than ever.
Installers prefer manufactured pans as it saves them from having to mix and carry several hundred pounds of sand and cement to make the shower pan. A 5'x5' sand and cement shower pan already weighs about 500 pounds before we even add any tile!
Sales people prefer manufactured pans as it allows them to sell a shower with far less effort. We know we can achieve a high quality tile shower from an installer who would most likely feel more comfortable working with blocks rather than a pottery wheel (myself included).
Project owners prefer manufactured pans as it allows them to have a tiled shower without having to hire Michelangelo to build it. They also have the added comfort of a manufacturer's warranty.
Some shower systems have over 25 pieces to assemble before we even get a foot up the wall. Hydro Ban Shower Pans only have 5 pieces to assemble even if going to the ceiling (one of which is applied with a caulk gun and another of which is applied with a paintbrush or paint roller). Fewer pieces simplifies the learning process and makes it much easier.
Hydro Ban Pans are a one piece shower pan, where the drain connection is even made at the factory, so there is literally no assembly required to have a shower pan that is sloped and waterproof to the drain. We only need to cut the pan to size and adhere to the subfloor in a thick layer of Laticrete's 4-XLT thinset.
For showers larger than the pans, we can utilize the 2'x4' pan extension to enlarge the pan by 2' on all 4 sides! So we can now extend the 4'x5' shower pan to as large as 8'x9' without having to mix sand and cement!
We can now install cement board onto the walls and begin the process of waterproofing the walls using Hydro Ban, the only liquid applied waterproofing that allows you to flood test in as little as 2 hours. Since the biggest concern with any shower is the possibility of leaks. Flood testing a shower is the best way to know that you're 100% ready to tile.
With their ease of installation, simple design and being a component of Laticrete's Lifetime Warranty System, Hydro Ban Shower Pan are ideal for any contractor, salesperson, or project owner.
---